The Clearspire Story
The Clearspire Story describes why Clearspire holds a special place in the evolution of the legal services industry. It is remembered as a transformative legal delivery company as well as "the next big thing" that failed to achieve its potential disruptive impact. The Clearspire Story is told by founder, Mark Cohen.
Clearspire's Founder – and active contributor to Dialogue – Mark Cohen explores Clearspire's intellectual triumph and financial failure.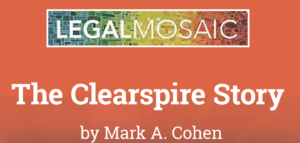 Many say Clearspire (founded in 2008) was "ahead of its time," but, as Mark puts it "that's only part of the story".  He says Clearspire had ample opportunity to achieve intellectual and economic success but "failed to sell customers what they wanted to buy from us".
Mark has written the Clearspire story as an e-book. You can download it here.
The Clearspire Story is an important milestone in the NewLaw journey.
Mark writes "My reasons for sharing the Clearspire story are professional and personal. Our vision is important from an historical and contemporary perspective. Our model is as relevant now – perhaps more so – as when we launched Clearspire almost a decade ago and separated the practice of law from the delivery of legal services. The marketplace is ripe for Clearspire 2.0, and I might get another turn at bat."
I warmly commend The Clearspire Story to you.
George Beaton