Axiom's vision for legal services in the Asia-Pacific
In 'Axiom's vision for legal services in the Asia-Pacific' John Grimley, a regular contributor to Dialogue, conducts a Q&A with Kirsty Dougan, Axiom Law's Head in Asia.
Not only does what Kirsty reveals shed light on Axiom's vision and value proposition, it demonstrates the rapid growth and sophistication of legal services in the Region. 
What is Axiom's value proposition and vision for BigLaw, NewLaw and corporate law departments in the Asia-Pacific region?
As the pioneer of NewLaw in Asia – Axiom has a strong vision and value proposition both globally and regionally. As Mark Harris, Axiom's CEO said in 2002 – we seek to transform the delivery of legal services for clients and attorneys to bring meaningful change to a precedent bound profession.  So with that vision in mind, I co-founded a NewLaw secondment business called Asia Counsel in 2009 which I later sold to Axiom in 2010. As the world's largest provider of alternative legal services – I saw an opportunity with Axiom to bring meaningful change to the legal profession in Asia-Pacific –opening in Hong Kong in 2010 and Singapore in 2011.
What do you see as the difference between the BigLaw and NewLaw agenda?
I think the key difference is that Axiom has a fit for purpose innovation agenda. Before I founded Axiom Asia I was Senior Counsel with Diageo for several years based in mainland China where I built a legal department for Greater China. I very much had a blank canvas.  While the traditional law firm model served its purpose and supported me in those years, I felt that the traditional model has primarily a growth by acquisition agenda – not a fit for an innovation agenda.  This is the core difference between Axiom and traditional law firms. When I was in-house with Diageo, there were no alternative providers to speak of in Asia and the mere mention of innovation and technology to enable lawyers was an anathema. How quickly things change!
Were Asia-Pacific General Counsels ready for change when you founded Asia Counsel?
When I came to Hong Kong in 2009 after I left Diageo, I was surprised that "disruption" in the legal profession was almost frowned upon. I found lawyers in private practice to be very conservative, risk-averse and even protectionist in behavior.  However, a number of progressive GCs mostly from the global investment banks who I spoke to in the early days were much more positive and felt that the business model would potentially work in Asia, particularly coming at a time when the industry was still feeling the dramatic fall out from the Global Financial Crisis (GFC).
The question I kept coming back to in those early years, was in a world where everyone else is trying so hard to be efficient, why does the legal industry, one of the world's largest and most important service economies, get to be so inefficient? 
How has Axiom evolved since it was founded in the Asia-Pacific region?
While Axiom's vision has always remained the same at the global level – how we execute that vision is always evolving.  In Asia in particular — it's been fascinating to see that in the early years, clients were mostly firefighting and often struggling to keep up with the growth of their companies.   Legal tended to be the team in the corner without the meaningful seat at the table.  The Asian client mindset in the early days was also one of interest but not of urgency to innovate. And I think this region took longer to adapt to a different way of operating post the GFC. Fast forward a few years however and we are now advising a number of legal departments on how to adopt the technologies and systems to produce more efficient and effective results for their companies. Take the example of contracts, many companies operated with a more is more philosophy; contracts negotiated by experienced lawyers; the better the lawyer, the better the outcome. Increases in contracting volumes in Asia has tended to mean commensurate growth in the number of expensive lawyers, when we think the right answer is often fewer. So whilst our vision is lofty and bold and has remained the same since our founding — in terms of delivery and value proposition – we also play an advisory role and help GC's understand what they can do – as well as what they don't need to do. Essentially, Axiom helps to educate the market to embrace disruptive change.  
In Asia-Pacific, we were carving a lonely furrow in the early years,  as pioneers, but clients gradually came to see Axiom as a credible alternative.  Traditional law firms had been seconding to big banks with a clear expectation of securing further work and this had become an entrenched way of doing business in Hong Kong. I fundamentally disagree with that practice.  In terms of Axiom's value proposition – some clients were more sophisticated and bought into it quickly — others less so and saw us simply as legal recruiters.
Does Axiom help lawyers manage their careers?
Since our inception – Axiom has been seconding quality lawyers from great backgrounds – managing their career path so clients get the subject matter expert without the cost and managerial aspect of a direct hire.
To attract the right talent, we offer full benefits to our lawyers including medical, dental, pension, work visas where required, competitive salaries, spot bonuses, annual appraisals and pay-rises, client feedback and for some who met certain criteria, equity in the firm.  This is a unique value proposition in the market and one that clients also find compelling.  They see us really investing in people and respond to it positively.  Clients see Axiom as a very credible and well-established company in this region and a real alternative to a traditional law firm.
What are some examples of Axiom Asia's value proposition?
In Asia, we have a highly compelling value proposition.  As an example, multinationals often rely on Axiom for senior legal counsel support who can hold the fort on the ground in the region and share the challenges of operating in Asia to a faraway head office. Clients can hire our lawyers on a retained basis, for example at 20 hours a week or on a full-time basis – we have no minimum requirements.  So our secondments can be very flexible and can be scaled-up and scaled-back anytime.
High-value insourcing has recently been very attractive to investment banks facing regulatory events — where they don't want a law firm or contractors – so turn to Axiom with confidence in the quality of our lawyers and our client service, where we're putting together concrete deliverables which clients can rely upon.  In the area of margin reform, for example – we're seconding global teams to clients with proper processes, technology, and deliverables in place. In Asia, this has been a compelling value proposition for investment banks.
We have typically done less in the area of managed services in Asia over the past few years as there has not been the volume of contracts in the region but we are recently beginning to see real change here.  There is now an increased appetite among clients for transformational change in legal departments.  Some household corporate names in the region have been expressing real desire to explore our projects and managed services capability with us as part of their innovation agendas. 
Among the challenges, in-house teams in Asia face however are language differences in cross-border deals.  We've noticed that small-scale efforts at change don't work.  They've got to be substantial to deliver meaningful change.  Some companies are at a sizable scale with large transaction volume – which permits legal departments to look at alternative providers who will charge more for services like our due diligence support.  Axiom has the technology and the capability and years of experience to leverage this for our clients.
What does Axiom Asia have planned for the future?
Axiom is no longer the pioneer but is clearly the leader in the Asia-Pacific region in delivering change and innovation to corporate legal departments on a scale other providers struggle with. And this will require us to look at geographic expansion. Clients want us in Japan, China, and Australia and we are working on a plan for those markets right now.
We're also exploring setting up a delivery center in the region. And here it's about developing a cost-effective service delivery that's also high-value.  We're also in the midst of a number of conversations with the region's most disruptive corporations and their legal departments about helping them transform the way they work and that remains our absolute priority in terms of our future plans.  
This interview with Kirsty Dougan was conducted by John Grimley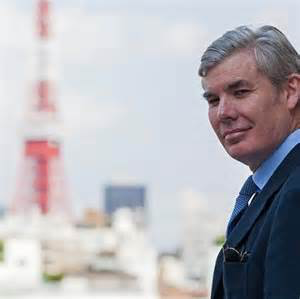 John Grimley is the Editor and Publisher of Asia Law Portal. In this capacity, John adds to the understanding of the region's legal markets, the economic opportunity it presents to lawyers, legal services sector professionals and the corporate management teams and entrepreneurs operating within it.

Kirsty Dougan is Head of Asia for Axiom Law. As co-founder of Axiom in APAC in 2010, Kirsty pioneered NewLaw in Asia. She manages a team of over 80 in the region, responsible for client development, client service, lawyer recruiting, thought leadership, new office expansion in Asia, marketing, and financial performance.
More….
Readers of Dialogue may also be interested in NewLaw insights. Inside Lawyers on Demand, an interview I conducted with Sandra Gibson, Managing Director of LOD, Australia in December 2016.