How to get the best of all world's in a legal services business model
Zico is demonstrating how to get the best of all worlds in a legal services business model. The only surprise is there's not a good deal more interest in what Chew Seng Kok and his colleagues are doing. Here's why.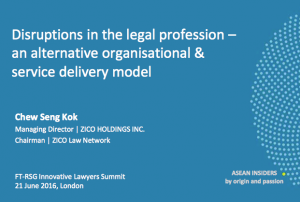 Courtesy of Seng Kok, his slide deck presented at the FT Innovative Lawyers Summit in London on June 21, 2016 is attached to this link. 
The deck's modest subtitle – 'an alternative organisational & service delivery model' – belies the richness of information and revelation of what's afoot in South East Asian legal and related services. 
I encourage you to study the model. In summary, the relevance to owners of BigLaw firms is this. You can practise law and serve your clients and at the same time enjoy the advantages that include…
A high quality, low cost, complete back office based on economies of scope and scale and jurisdiction,

Stronger corporate, i.e. firm, branding to add to your personal brands and those of your partners,   

Building real equity on your balance sheet and having access to external capital to invest in the future without sacrificing income now, and

Providing a growing list of adjacent services that includes trust, company secretarial, consulting, investor and wealth management services and benefit financially from doing so.
The Zico model is a perfect example of the hallmarks of a NewLaw firm that I described in my e-book NewLaw New Rules, available from Amazon here.
And, perhaps more importantly, the Zico model demonstrates one way traditional BigLaw firms can remake themselves. And in doing so avoid the adverse consequences of the decline in the fortunes of their business model which I argue in Remaking Law Firms: Why & How published by the American Bar Association in March 2016.
My thanks and congratulations to Chew Seng Kok.
George Beaton