The remarkable Andrés Jara
The remarkable Andrés Jara is a short story emanating from my recent encounter with Andrés. Within 10 minutes of meeting Andrés Jara when he came to say hello in our Melbourne office, I knew I was privileged to be talking with a remarkable legal services pioneer, a visionary and a 'doer'. Andrés describes himself as a 'lawyer, entrepreneur, father and husband'. I'd add 'global leader'.
To quote Andrés, "I'm convinced the legal industry needs to change and this motivates me every day. I'm passionate about generating opportunities and be a positive, disruptive force in the legal landscape.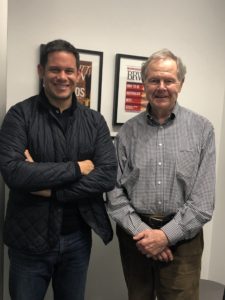 I've seen the challenges traditional legal services providers face now and in coming years; I am thrilled to be part of the movement that is changing the old business models to adapt to the new era."
Andrés takes inspiration from Spanish futurist Carlos Barrabés "If you don't fail it's because you did not risk enough, and if you didn't risk enough it's because you didn't put your whole self out there."
Modest Andrés is actually talking about himself. Not only is he the founder of Alster Legal (of which more in the next paragraph), he is a practising corporate lawyer, a former corporate general counsel and professor of commercial law in the Faculty of Law of the Pontificia Universidad Catolica of Chile, his alma mater. And if this isn't enough Andrés holds a Master in Law and Business from the Bucerius school in Hamburg.
Alster Legal is a classic NewLaw business model offering flexible legal talent and business transformation services to law departments and law firms. In a few short years, Alster Legal has entrenched itself in Chile and will soon expand into two more South American countries.
Thank you for sharing your story Andrés 🙂.