Allen & Overy does it again and again. Others are following.
Allen & Overy's senior partner Wim Dejonghe recently said: "It's clear that lockstep has its limits, but it's also clear that it is at the heart of Allen & Overy's success." Built on lock-step, one of the oldest planks in the BigLaw (business model) platform, Allen & Overy is an innovation pathfinder par excellence in the global legal services supply chain. This post captures some of the highlights the Allen & Overy journey and flags how other firms are taking steps to remake their businesss models. 
The post is intended to inspire others to preserve the best of tradition and embrace the future.
aosphere
Established in 2001, aosphere was one of the early Allen & Overy experiments, delivering online legal risk management products on subscription. aosphere now has more than 300 client organisations using its 11 online subscription services, offering over 500 individual product combinations. More than 50% of aosphere's clients are now asset management/buy-side institutions and there a permanent presence in the US, where approximately a third of its clients are based.
Collaboration tools
In 2005, Allen & Overy started experimenting internally with social tools for group collaboration. At that time, they were well ahead of the curve with wikis and blogs only really becoming mainstream in the last couple of years. It was a great success and they soon found that their sites were being accessed firm-wide by most staff. They also extended the sites to include external collaboration spaces for client relationship management, again with great success. These sites are still operating today (Stuart Barr).
Peerpoint
Peerpoint is Allen & Overy's platform for self-managing lawyers seeking access to high-quality work, clients, customised support, and resources. "More control, choice, challenge and calibre" is how Peerpoint, launched in 2013, describes the advantages offered to self-managing consultants. "That and our close relationship with Allen & Overy.  With this, our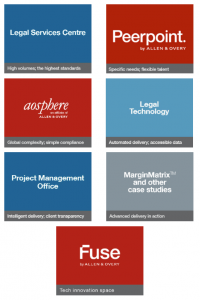 lawyers can access high-level clients and work, and a global network of bespoke support and resources. For our clients, Peerpoint offers a way to access a panel of top-tier, senior lawyers who have the skills and expertise to work with their business' legal and compliance teams with the support of Allen & Overy."
Fuse
This year the Firm announced the launch of 'Fuse', a technology innovation space located in its London office. Fuse is an incubator. There's nothing new in that. What's new is a major BigLaw London firm stepping out on a large scale and providing access to Allen & Overy's lawyers, technologists and clients. The aim is to focus on adjacencies: legaltech, regtech  and dealtech.
Regular contributor to Dialogue, Richard Tromans, has written an in-depth piece on Fuse. 
Other firms too
A&O's Fuse initiative is not the only law firm/start-up collaboration. In the UK, for example, Mishcon de Reya and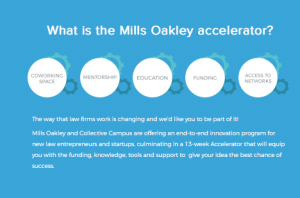 Addleshaw Goddard are funding tech start-ups and mentoring programs. A&O is partnering with Baker McKenzie to support Ulster University lawtech initiatives.
Two years ago, Dentons launched NextLaw Labs, a 'collaborative innovation platform focused on developing, deploying, and investing in new technologies and processes to transform the practice of law around the world.' 
And in Australia, Corrs Chambers Westgarth is backing the University of Melbourne Melbourne Accelerator Program,  and Mills Oakley and Collective Campus are offering a 13-week incubator program and a share of $500,000 funding for legal startups.
David Morley's contribution
His modesty and team-orientation belie David Morley's contribution to the Allen & Overy journey. He joined Allen & Overy in 1980 when there were 35 partners and revenues of £8m in one country. He became managing partner in 2003 and was elected senior partner in 2008. The firm has grown to 500+ partners. This Financial Times tribute to David is well worth reading.
I was fortunate to meet David Morley as part of the research for Remaking Law Firms: Why & How. Among the many exceptional people I met in the course of 40 interviews, David stood out. As an enigmatic blend of tradition and the future, David led Allen & Overy to do it again and again.
George Beaton