Are young lawyers being ignored in the race for the future of legal services
The just-published College of Law (Australasia) report suggests young lawyers are being ignored in the race for the future of legal services. 
This conclusion is based on a report on aspects of the future of legal services which found there is a large overlap between "the legal work graduates don't want to do anymore and what clients don't want to pay for anymore". One of the reports key conclusions is "Young lawyers have a keener finger on the pulse than most older lawyers, yet their talents are not being properly or fully used." 
The report is based on an October 2018 roundtable that brought together law firms of all sizes, corporate counsel, government lawyers, the Law Council of Australia and practice management experts. Chaired by College of Law chief executive Mr Neville Carter and facilitated by Dr George Beaton, the chairman of the program board for the College's new Master of Legal Business degree.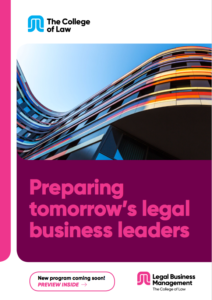 Neville Carter noted "If a legal organisation, i.e. a law firm or inhouse legal department, does not respond to the career needs of young lawyers and other specialist professionals they will be lost, either to a competitor or other industries. Most firms have established staff evaluation criteria – billables, skills, and bringing in new clients, but the new generation is also, perhaps more, interested in innovation in the way clients are served and the organisation is run. They are not being given the same opportunities to advance."
The report continues "Younger lawyers are reluctant to specialise for fear of being pigeon-holed too early in their career and many prefer innovation projects to legal work. They do not see a successful lawyer as someone who knows statutes and cases, but someone who can manage their clients, their practice, their business and their personal life."
Conclusion 
The Roundtable and Report concluded the future of the legal profession will be decided by business leaders, not lawyers. To assist the legal services industry manage the future, the College has launched a business education program, the flagship of which is the Master of Legal Business. 
A copy of the report may be downloaded here.
Subjects for the Master of Legal Business start in February 2019
Details of the Master of Legal Business and the international teaching faculty are available here. 
Participating firms
The following were represented at the College Roundtable: Hall and Wilcox, Gilbert + Tobin, Clayton Utz, Allens, Maddocks, Coleman Greig, Dentons, Norton Rose Fulbright, MinterEllison, Polczynski Robinson, The Fold Legal, and the Australian Government Solicitor.
A longer version of Are young lawyers being ignored in the race for the future of legal services was first published in the Australian Financial Review as 'Younger lawyers ignored in race to the future, says College of Law report' by Michael Pelly on 15 November 2018. It has been re-purposed here under © licence.