Has the juice been squeezed from BigLaw's business model?
Central to the profitability of the 'BigLaw' business model is how rainmaking equity partners, i.e. the owners, win work for the firm and enlist other fee-earners to do the bulk of this work. Since the 1950s, this model has been hugely successful, both in serving clients and making a great deal of money for owners. However, the capacity to exploit this business model has a ceiling; and this appears to be fast approaching.
Analysing the legal markets of major common law jurisdictions, including Australia, the UK and the US, reveals varying degrees of profitability growth amongst traditional BigLaw firms over recent years. While BigLaw owners may be encouraged by some reports of profit figures, the evidence points to partnerships squeezing the last they can out of the BigLaw business model's profitability levers. As new forms of competitors continue to emerge and take market share from BigLaw, its profitability levers may soon become ineffective.
Maister's profitability levers – intuited trends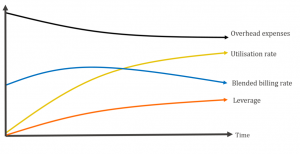 Maister's equation to calculate and manage the profitability of law firms can be represented as follows:
Profit is distributed to equity partners (EP) in proportion with their share of the equity points (Points), giving rise to an average profit per point, PPEP (if the denominator is the number of EPs, rather than points on issue, then PPEP refers to the average profit per EP). Leverage (L) is number of fee-earners for each EP. Utilisation (U) is the number of hours per fee-earner, including EPs, per year charged and recovered from clients. Blended billing rate (BBR) is calculated dividing the firm's fee income by the firm's total U. Total Expenses (TE) is all costs incurred in operating the firm.
BigLaw firms have long been guided by Maister's formula, manipulating the levers of U, L, BBR, TE and Points to maximise profitability.
What the evidence points to
While complete data pertaining directly to Maister's profitability levers is elusive, and exogenous factors clearly affect profitability as well, it can be inferred from commonly published metrics that firm leaders are driving the levers very hard. This strongly suggests that PPEP maintenance, let alone growth, in the sector may not be sustainable.
Leverage and Utilisation
Maister's schematic demonstrates that L and U cannot grow indefinitely under the BigLaw business model. This is intuitive. With respect to L, partners can only lead and supervise so many non-partner fee-earners without compromising quality. Further, if the carrot of equity partnership becomes too distant for lawyers to achieve, they will opt out of the tournament for partnership. With respect to U, there are only so many billable hours in a day that lawyers can or will work. Examining these levers in Australia, the UK and USA yields interesting results.
Australian firms have seen rising PPEP growth in recent years. Analysis of beaton's bi-annual results reveals a 6.2% reduction in L for some of Australia's largest firms[1], while L fell by 10.9% across the 44-firm survey. According to the Thomson Reuters' Australia: State of the Legal Market report, demand growth for legal services has been negative since 2013. These trends reflect a plateauing ability of firm leaders to leverage their business due to poor demand.
Despite this, PPEP has been on the rise. This is consistent with increasing 'productivity per lawyer' figures in the report. Far from reflecting more efficient productive output from lawyers, 'productivity per lawyer' is simply higher U (i.e. fewer lawyers are being pushed to work more billable hours). Increasing profitability through this tactic is likely to soon reach its limit.
In the UK, analysing historical results from the Legal Week Top 50 reveals L has somewhat increased from 2010-11 to 2014-15, showing an interesting correlation with PPEP. While different to Australian firms, this strategy still reflects a push eke out as much as possible from Maister's profit levers; firms are increasing revenue per partner via increasing L to drive profitability. For reasons stated above, this strategy has limited potential for growth, particularly with falling demand for legal services.
Conversely among the largest firms[2], L slightly fell by 4.3% over the same period while PPEP and revenue both grew. In the absence of demand for legal services increasing, this suggests that profitability has been propped up by increased BBR and/or increased U. Again, U and fees can only be pushed so far, and in a hyper-competitive market there will likely be push-back on fee levels from clients.
In the US, the 2016 AmLaw100 survey results indicate that PPEP grew by 4% in 2015. However, de-equitisation of 0.6% meant that PPEP growth was inflated on average. In the case of some firms this turned what would have been negative PPEP growth into positive.
Georgetown University's 2016 Report on the State of the Legal Market  confirms that leaders have improved profitability through increasing L, as well as through rate increases. The number of lawyers has increased, while their productivity (U) has fallen consistently over the past 4 years. Firms have propped up their PPEP by increasing their fees, despite push-back from clients in the form of falling realisation rates (i.e. firms are collecting less as a proportion of what they record). It therefore appears that with reduced demand for legal services, US firm leaders will struggle to continue increasing their L without sacrificing U, as there simply won't be enough work for non-partner fee earners to bill to clients.

 
Blended billing rate and expenses
Without demand for legal services improving significantly, continued increases in fees appear unsustainable. This is evidenced by falling realisation rates in both Australia and the US – clients are pushing back. This will eventually have a dampening effect on BBR (which reflects fees actually collected) and thus on the fees themselves.
In the absence of direct data for the UK, it is unclear whether increasing RPL and PPEP amongst the largest firms reflects higher fees, higher U or a combination of both. Regardless, improved demand will be required to squeeze more out of either in a hyper-competitive market.
Expense growth (TE) has been more or less flat since the GFC in the US, and is significantly lower than pre-GFC levels. In Australia, TE growth has been negative, but there is insufficient evidence in either market to suggest that firms are engaging in austere cost-cutting measures to drive their profitability. TE data for the UK is unavailable.
Conclusions
There is a limit to the profitability growth that can be achieved through the traditional BigLaw business model. Firm leaders have seen some success over the past 5 years in improving profitability. However, the evidence suggests that this reflects tinkering with Maister's profitability levers, rather than exogenous factors such as an improved value proposition from BigLaw firms, or a return to favourable legal market conditions.
Profitability growth is likely to flatten, which will only be accentuated by the competitive pressures of NewLaw businesses.
Further reading
BigLaw profitability needs a new approach
Evidence: Why BigLaw must start remaking now
The rise and rise of the NewLaw business model
Last days of the BigLaw business model?
More NewLaw M&A: Elevate acquires Legal OnRamp
Author
Ben Farrow is a Consulting Analyst at beaton. He holds degrees in commerce and law from the University of Melbourne and delivers clear, actionable advice to clients. You can connect with Ben on LinkedIn and contact him at ben.farrow@beatonglobal.com.
[1] Results for the 2015 top 20 firms (by revenue) for whom there was consistent data were analysed by beaton. This amounted to 17 firms.
[2] Results for those of the 2015 top 20 participating firms (by non-partner fee earner) for whom there was consistent data over the past 5 years were analysed by beaton. This amounted to 19 firms.
– See more at: http://www.beatoncapital.com/2016/05/biglaw-businessmodel-profitability/#sthash.qpPpxjE1.dpuf