From Maister to Porter – How the market for law firms has changed!
How the market for law firms has changed! Who would have thought we'd be applying Michael Porter's Five Forces model to understand law firm strategy?
Let's face it Porter's Five Forces, which draws upon classical industrial organization economics, is a framework to understand and address the dynamics of competition and profitability in an industry populated with companies – not partnerships of professionals. But there has been a secular and irreversible change in the dynamics of the legal industry – a tectonic shift from a sellers' to a buyers' market that has transformed the very basis of industry rivalry.
Some of the core tenets of Porter's thinking ring true for the legal industry, for example:
Competitive intensity. This is driven by the increased bargaining power of buyers (i.e. clients), the threat of new entrants
(e.g. globalising law firms, the Big4 accounting firms etc.), the threat of substitutes (NewLaw models), and the bargaining power of suppliers (e.g. quality talent being prepared to go client side or work for NewLaw models).
Industry attractiveness and profitability. The legal industry, one of largely homogenous services where d


igital disruption is eroding the asymmetry of knowledge, is approaching a state of 'pure competition' – with the average level of profit being driven to an economic 'normal' profit. In other words the industry is becoming attractive only to those achieving significantly above-average




returns. The rest must face a new-normal of long term reduced profit.

Client service. In the long run these forces will impact how a law firm both services its clients and makes a profit. These forces will drive law firm strategies where they will re-assess their market and their role as an economic actor in that market.
The nature of industry rivalry. This is where new business models will be explored nd deployed as a response to competitive rivalry. Law firms on the ascendency will identify and maximise their core competencies and modify their business model(s) to achieve above average profit.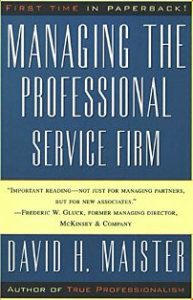 Maister's 1993 seminal book Managing the Professional Service Firm identified five levers to generate sustainable profit. That work became the textbook for law firm business management and its logic and clarity must take some of the credit for the success of the traditional law firm model (BigLaw as it became known). But that model was based on old market conditions, most notably on an enduring asymmetry of knowledge and resulting 'seller' led market power. Much of Maister's insights on the role of behaviour and relationships remain true today. But the business model underpinning BigLaw that was driven by the billable hour, rates of utilisation and recovery, and leverage needs to be reconfigured to be relevant to the new market conditions for law firms.
Remaking Law Firms is as it says. The book is a blend of conventional wisdom and prediction as to why law firm business models will change and how they can make the changes needed to preserve both their value to clients and profits for their owners. Up until recently the law industry was not dynamic; it was a constant. That has all changed. Porter gave us a valuable lens to make sense of these new dynamics, now Remaking Law Firms provides the fundamentals to understand what it all means to law firm leaders, and what you can do about it.
Author
Warren Riddell of Beaton Capital and Beaton Research + Consulting wrote this post. You can find Warren on LinkedIn, Twitter and Google+.