Glenn Gould, Bach and the beauty of flat teams introduces Eric Fiszelson as the latest Contributor to join Dialogue on Remaking Law Firms. With Eva and Hans, Eric strengthens our European contingent. We'll all benefit from Eric's Gallic cultural flair. 
Back in 2002, I was a legal intern at Curtis Mallet-Prevost, waiting to qualify as a French avocat. Peter Wolrich, the then managing partner of the Paris office, one day told me that I should listen to the Goldberg Variations by Glenn Gould. I followed the piece of advice of this man of culture, and am still grateful for it. I quickly became fascinated by this Canadian pianist who had quit playing live because of stage fright and who, besides recording, was a brilliant investor in the Toronto stock exchange (go figure!). His intensity, his unique staccato: I was awestruck. And with Glenn Gould, I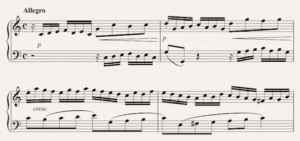 discovered Bach: the Well-Tempered Clavier, the Preludes, the Suites, and the Fugues: I was suffering from an acute "Bach by Gould" syndrome… The Goldberg Variations (and in particular the slower, more elegiac 1981 studio version) quickly became one of my favourite pieces of music. These (supposedly mere) keyboard exercises still mesmerise me. And it so happens that these Variations (and more generally Bach's mastery of the art of the counterpoint) are a potent metaphor of how law firms could (and sometimes, frankly, should) change their approach to team work.
Counterpoint and harmony
From the Middle-Ages until the end of the Baroque period, counterpoint techniques were used by most composers in Europe. After that came the age of the harmonic music, which relies on the use of chords (which are a fixed, rich but rigid combination of notes played at the same time), on top of which sits one single melodic line. Harmonics became the canvas of European music for centuries.
But what is contrapuntal music exactly? It is the interweaving of strong, distinct melodic lines. It is the combination of independent melodies that fit in together to form a special kind of polyphony. It is the art of interactions.
Contrapuntal music is not better than harmonics per se. But it is fair to say that each produces very different sonic results: music scholars often describe counterpoint as "horizontal", and harmonics as "vertical"… And this is why counterpoint should mean something to us in the workplace.
From vertical teams to polyphonic teams
Corporates, banks and professional services firms are quite apt at structuring their teams vertically. Law firms in particular traditionally rely on a top-down, asymmetrical, pyramid-based approach. And undoubtedly, there are many virtues in that organisational rule: efficiency, consistency, coherence, togetherness.
But there are other ways to manage teams. For those of you who have had the chance to participate in any design thinking workshop or in a hackathon, you will probably understand what I am referring to: in such a polyphonic set-up, every team member contributes their strengths and skills to a task or a project in a non-hierarchical, flat – or dare I say horizontal? – manner.
The results of this new organisational model can be quite powerful. I have experienced it first-hand with my role as a mentor in the Law Without Walls programme earlier this year. And I am now convinced that this way of managing teams can (in the words of Daniel Pink) foster "autonomy, mastery and purpose". Flat teams can lead to a higher level of client engagement. They are a great retention tool. They are not always the panacea of course, but professional services firms – including law firms – should not hesitate to rely on them as widely as possible.
Horizontality can create beautiful results. If you do not believe me, I can only encourage you to sit down, close your eyes and listen to Glenn Gould playing a Bach prelude.