How much time does BigLaw have?
Dialogue is pleased to publish, How much time does BigLaw have?, a question posed by London-based Mark Rigotti, joint CEO of Herbert Smith Freehills. Read why Mark asks this question, and my reply in the first comment.
Congratulations to you and Imme on a comprehensive and helpful piece. Remaking Law Firms covers many issues with a good blend of academic anchoring and real life client and practitioner insight and anecdotes. I like it!
A thought, one missing bit for me is the 'pace' issue. I agree with many of the trends you identify and their use to support the case for 'remaking' with the focus on BigLaw. But how fast does a BigLaw firm need to 'remake' itself? In a sense, how much time does BigLaw have?
Think about the predicted death of time billing; it has been going on for at least 15 years. If big firms had been among first movers, they would have forgone profits for the partners of then and today; although maybe they would have developed skills and an experience bank to benefit the partners of tomorrow. 
I would welcome your views on pace. No firm wants to move too late, but I am not sure there is much to be gained from being first and furthest on some of the Remaking changes you advocate.
Editor's note: Mark was of the BigLaw leaders who contributed to the research undertaken we undertook in writing Remaking Law Firms: Why & How. To Mark and the 39 other contributors, Imme Kaschner and I reiterate our thanks.
Mark Rigotti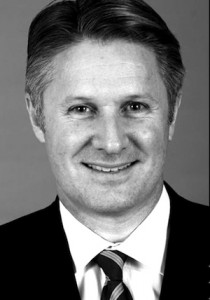 Mark is the CEO of Herbert Smith Freehills, alongside fellow CEO Sonya Leydecker.
Prior to becoming Joint CEO Mark was a partner in the Banking & Finance group where he focused on the leverage and project finance areas.  He has been a member of the management team for some time, having led different practice groups at different times and involved in a range of leadership and management matters, before taking on a role managing the firm's client portfolio. Mark is a member of the firm's Council, co-chairs the Global Executive and is Chairman of the Global Diversity and Inclusivity Group.
Based in London, Mark may be contacted at mark.rigotti@hsf.com.