Price. Price. Price.
As in real estate with position, so in law, the top three challenges facing law firms are all price related (1):
1. Negotiating price with clients (Price)
2. Winning new business (Price is a key element)
3. Competing with other firms (Price is a key element).
When we talk to firms in other professions, we hear the same story. Even in consulting engineering, where the demand side is the strongest in years and resourcing are a challenge, firm leaders tell us there is still big price-down pressure.
All three of the challenges listed above rely on partners, principals and directors (partners) having successful conversations with clients about pricing, yet in our experience, this is the area where partners readily admit they lack know-how and training – and therefore confidence.
Faced with a situation where a firm has an opportunity to win new business and knows that it is a competitive situation (challenges 2 and 3), preparation for a price negotiation (challenge 1) is too often limited to 'How much discount we have to offer to be competitive?'.
In other words, firms are negotiating their price down before they even meet the client! And inevitably negotiate an even lower outcome.
In response to the pricing challenge, some firms have invested in the following strategies over recent years:
• Introducing and strengthening (legal) project management
• Hiring a pricing specialist to advise on pricing large matters and client agreements by running financial analysis and scenarios
• Offering clients alternative fee arrangements (AFAs)
• Requiring central approval for discounts over an agreed, significant threshold.
These strategies make sense on paper. The problem is that they seldom work in the real world – hence pricing challenges continue.
Here's why:
1. Partners' performance metrics related to finance are focused on revenue, not profit
2. 10% is the new zero … discounts quickly move to the maximum allowed without management approval
3. Discounts are only half the story, 50% of leakage lies in write-offs
4. Analysis of leakage shows that the majority comes from the hundreds of small discounts and write-offs on small matters made every day by partners; not on the big matters and clients overseen by the pricing specialist or senior management
5. Despite most clients requiring firms to offer AFAs, industry research shows – despite all the hype – that client uptake is limited with the exception of fixed fees
6. Legal project management relies on good scoping up front – which doesn't happen without a partner having good briefing and scoping conversations with their client – which doesn't happen because they don't know how to. And most importantly,
7. Negotiating price with a client to win new work in a competitive situation requires a partner to negotiate Value + Price. The partner must be able to:
• articulate in tangible ways the value they offer
• discuss value in the context of the client's business
• explore where the client sees – and doesn't see – value
• explore options and benefits
• negotiate price relative to the client's perception of value.
The reality is that most partners do not have the know-how to negotiate Value + Price.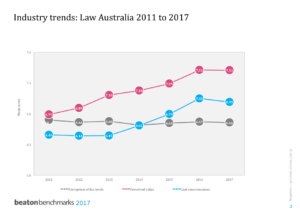 The good news is that providing training can make a big difference in partner competence and confidence to have successful Value + Price conversations. Here are five pricing and value insights from our 2017 beatonbenchmarks and other proprietary beaton research:
1. Clients are demanding and receiving greater value each year (shown in the chart)
2. The drivers of value can be clearly defined and unpacked for each profession and include both expertise and client focus attributes
3. The #1 driver of value for new clients is "expertise in my area of need"
4. Most clients are willing to appoint a more expensive firm when the partner can demonstrate superior value – not for every matter, but they are open to doing so. This is true for all professions: 85% of clients in law, 87% in consulting engineering, 70% in accounting
5. Cost consciousness is becoming increasingly important each year and requires "appropriate scoping" (shown in the chart) – cost consciousness is one of the outcomes of a successful Value + Price conversation.
This post was researched and written by David Goener and Paul Hugh-Jones, partners in beaton.
(1) Source: CommBank Legal Market Pulse survey of CEOs, managing partners and other senior leaders of the top 40 Australian law firms, conducted out by Beaton Research + Consulting in May 2017.