Remaking News of the Week: BigLaw discounting
Today Remaking News of the Week: BigLaw discounting draws attention to a podcast that hasn't – at least IMO – received the attention it should.
Question: If I'm right, why might this be so? Answer: The closed ranks and conscious denial of BigLaw partners and leaders the world over.
Unrelenting price-down pressure is a sure sign that the buyer's market for BigLaw services is well established. Suppliers' common response to price-down pressure is to discount to match the competition and/or to write-off and not try to recover costs incurred in producing the service.
First, take a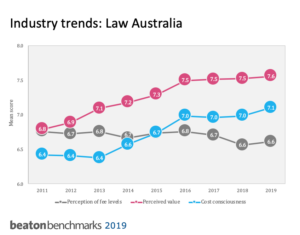 look at the chart. It's from Australia, the only place in the world where a valid time series exists. It shows how corporate clients perceive the aggregate level of fees they pay to BigLaw firms in addition to the perceptions that fee have been flat for nine years, the chart shows clients perceive the value they derive has been rising and the way solicitors explain their options to clients and the associated prices (styled cost consciousness in our research) have been rising (more details here) .   
Now, listen to the Law.Com podcast, which is introduced thus "We're focused on a facet of BigLaw business that few firms want to acknowledge: discounts and write-offs.
Those reductions to the sticker price of legal services—whether taken off at the outset of an engagement or when it comes time for lawyers to collect the bill—end up costing Am Law 100 firms some $4.4 billion per year.
In this podcast, The American Lawyer editor-in-chief Gina Passarella talks with reporter Roy Strom about the growing demand from clients for discounts and write-offs and the tension it's creating between in-house departments and outside counsel."