Remaking news of the week: London law firm incuabtors
Remaking the news of the week is a new feature on Dialogue. Each week I will write circa 100 words why the chosen item is, in my opinion, newsworthy in a Remaking Law Firms context.
Appropriately Remaking the news of the week kicks off citing Bob Ambrogi's report in Above the Law on three BigLaw firms that are variously pioneering and supporting lawtech startups.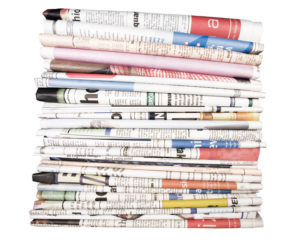 Biglaw Firms Become Tech Incubators is newsworthy because all the incubators were founded last year and all the firms are London-based: Fuse (Allen & Overy), MDR LAB (Mishcon de Reya) and Fintech Fast Forward (Slaughter and May).
As I observed in Chapter 13 of Remaking Law Firms, London is the cradle of BigLaw firms remaking their business models. My thanks again to David Morley, the then Senior Partner of Allen & Overy for his candid story on the A&O innovation journey that started in 2005.
A stack of news
What better way to create and outside-inside skunkworks as a means of driving innovation?
Why the image and caption?
The obvious, this episode is a digest of news. Stack is a double entendre referring to the old – smokestacks – and the new – tech stacks.