Remaking news of the week: Mergers don't make sense 
Today's Remaking the news of the week post is a bit unusual. This a post about a post about a 2012 WSJ article on BigLaw firm mergers. Ron is a brilliant blogger (and an active contributor to Dialogue), so I read his argument all the more carefully, asking myself 'Is this still true?'. And I concluded, yes it is – and it's newsworthy.  
The subject is not new. Nor, in my experience, are the (largely flawed) reasons firms give for merging new. What's newsworthy is Ron Friedmann's clarity of argument why mergers do not really make sense. Ron is a brilliant blogger and an active contributor to Dialogue. So I read his argument, asking myself 'Is this still true?'.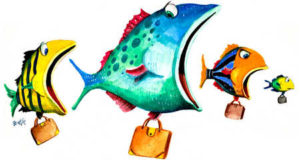 Ron's critique of the Wall Street Journal article starts by reporting what most partners give as the reason for merging – efficiency and the benefits of scale. He then decimates the scale argument under the headings of Offering clients a broader range of services, Improving the efficiency and effectiveness of how lawyers work and the value they create for clients, Reducing the cost of providing support for lawyers, and Generating more income for rain-making partners. 
Ron cites the classic 1994 Galanter and Palay book, Tournament of Lawyers: The Transformation of the Big Law Firm, "which argued that rainmaking partners had to be able to spread their 'excess' business-generating capacity over a larger number of lawyers … and the same general theory would apply to rainmakers seeking to cross-sell more services".
Say no more…
More on the risks of mergers
Last week's news
The thorny topic of equity profit-sharing