Insights from the latest buying legal services survey
Written by Dr. Silvia Hodges Silverstein – Executive Director of the Buying Legal Council – today's post is based on key insights from the latest buying legal services survey [1]. In the spirit of Jeff Carr's recent letter reproduced on Dialogue to outside counsel on delivering value with integrity, Silvia uses two emails, one from a CFO to the Legal Department, and the other from the CMO of a major law firm on the panel to the Head of the Corporate Practice.
Email from the CFO's Office to the Legal Department
Dear Marty
Yesterday we reported earnings down 6 percent over a year ago and our share price dropped by 10 percent. The market for our products is stuck in an environment of low inflation (no price increases), escalating cost, and a squeeze on margins. We need to behave differently and take a hard look at every element of expense.
Starting today, our company will go through another round of cost-cutting. Last year's departmental budgets will be cut by 15 percent. All departments must be involved and become better stewards of our organization's money. No department can be exempt.
While such an approach is new to the Legal Department, I trust that you and your team will be able to accomplish this easily with the support of Procurement. We will allocate two full-time people from Procurement to work with you.
It is my understanding from a survey I just got my hands on that with the involvement of procurement, companies save 14.6 percent of legal spend. When procurement is well aligned and works in partnership with legal, companies save 21 percent on average, far above what is expected from you. As you know, for a large company like ours, incurring legal fees at 1 percent of our revenue in the last three years, this translated into millions of incremental earnings. You know we cannot let our EBITA go below $600 million or we are in violation of our debt covenants. Legal needs to help us achieve our goals.
Procurement will help you and your team with the many aspects of purchasing that you have not yet drilled into. They will be tasked with negotiating discounts, issuing RFPs and outside counsel billing guidelines, establishing panels and lists of professional provisions, installing eBilling, negotiating fee arrangements, and applying their tool chest of process improvements.
Procurement will be tasked with helping you reduce legal spend by 15 percent without compromising quality of service and outcomes, and frankly, drive more value from our law firms and legal services providers. They are also tasked with better capturing and analyzing spend data.
Like in all other parts of the business, legal spend needs to be under continuous review and spend needs to be actively managed. The firms and providers we work with need to go through a rigorous selection process, just like anyone else. Sandy from procurement can walk you through the process they use successfully for other professionals' services.
The survey I studied lays out best practices for buying legal services which we can use to gauge our own progress against the best in our profession. Let's use this information when we develop our spend management strategies. We will also be able to identify productivity improvement opportunities.
I am aware that this will take a good deal of change management effort from you and your team. But there is a positive spin that I would like you to bring alive: We will make more money, we will save substantial costs. We will control our destiny. We will bring new value to the enterprise.
Thank you for your engagement and support. Please stop by my office if you have any questions. This is my top priority.
Regards
Heather
* * * * * * * * * * *
Email from law firm CMO to the Head of the Corporate Practice
Dear Susan
Company X just announced its new panel selection process. We have been serving them for the last 20 years and they are one of our most important clients, generating $50 million for your department alone last year, and $30 million for litigation.
What piqued my interest was that they announced that the selection process was run by procurement. I understand that they are on a cut-cutting spree and are also considering alternative providers, 'NewLaw' firms to do some of the work, as well as LPOs. I also heard through the grapevine that they are planning to have a very restricted panel, with only 20 or 25  firms on the panel. It will be set up for two years with significant discounts on negotiated rates and set staffing models. For some types of matters, they require fixed fees. It is not clear yet whether they will use electronic auctions for certain types of matters; this remains to be seen. For sure, I was told, they will require eBilling and pre-matter scoping as well as project management.
If we want to keep their business, we will need to further develop our capabilities in these areas. We have waited too long and if we don't do it now, we will have little chance to keep them.
Subject matter experience seems to be particularly interesting to them. We will need to take a look at our knowledge management system so that we can quickly identify and showcase our capabilities. We cannot rest on our laurels and expect them to stick with us, just because we are familiar with their organization. If we are not on their panel, we will get no business from them for the next two years!
As long as we do our homework, the good news is that we should still be able to make a nice profit with this client. I read in a recent survey that rather than low fees, predictability was the number one choice for both high-risk/bet-the-farm work (55 percent) and complex, significant work (54 percent). It was followed by efficiency (43 percent for both high-risk/bet-the-farm work and complex, significant work). Only 2 percent of survey respondents preferred "low fees" for high-risk/bet-the-farm and 3 percent preferred "low fees" for complex, significant work.
Let's get to work and make it happen. I plan to come to your office this Friday. Would 11:00 work for you?
Best regards
Alan
Author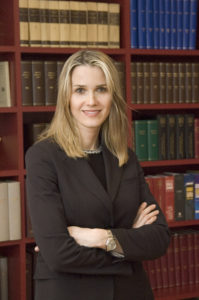 Dr. Silvia Hodges Silverstein is the executive director of the Buying Legal Council, the international trade organization for legal procurement.
Silvia can be reached at silvia@buyinglegal.com.