A Strategy Playbook for Professional Services Firms
A Strategy Playbook for Professional Services Firms is the first evidence-based tool for developing and implementing strategy for any professional services firm. This is a tough call for the leadership of all firms. How can a big picture strategy be effectively developed, deployed and measured at the practitioner level? Here's the answer.
Developing and implementing strategy for a professional services firm, indeed for any personal exertion services enterprise, can be a tough call for leadership. The reason for this (drawing from Marx) is that the 'means of production' is human, or put another way every link in the value chain is a human being – an independent variable. Hence, the often used 'like herding cats' analogy.
We know that KPIs and incentives are laid as bait to encourage goal-congruent behaviour amongst often divergent practitioners, but such techniques can have mixed and unpredictable results. So how can a big picture strategy be effectively developed, deployed, sustained and measured at the practitioner level? Here's the answer: A Strategy Playbook for professional services firms – download a copy here.
Executive Summary of the Strategy Playbook
This strategy playbook has been designed specifically for those running professional services firms.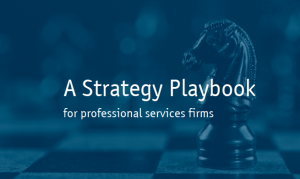 The issue for leaders is how do you develop and disseminate strategy without disintegrating it? Strategy has to be hinged at the centre, but it is the practice groups or divisions that have to be aligned to market segments and client clusters. This separation can lead to dysfunctional and ineffective strategy at all levels of a firm.
The solution is a pragmatic dissection of strategy development and execution based recognising the different attributes needed to either win new clients or retain and grow existing clients relative to either existing or new service offerings. Combining these points of focus leads to four distinct strategy platforms:
Proactively differentiating strategies
Ring-fence strategies
Quantum leap strategies
Building brand permission strategies.
The playbook provides the fundamental steps to develop and implement strategy from these platforms, namely:
Understanding the difference between new and existing client decision-making criteria
Understanding how the market accepts new service offerings relative to existing service offerings
How to determine strategic options
How to prioritise strategic options
Implementation and the criticality of measurement and feedback.
The strategy playbook is a pragmatic tool to develop strategy that is ultimately driven by the process your clients go through to select a service provider – be it new or existing. Professional advisors seek the accolade of being the trusted advisor, what better way to develop strategy than base it on the selection process used by your clients.
Download a copy of A Strategy Playbook for professional services firms here.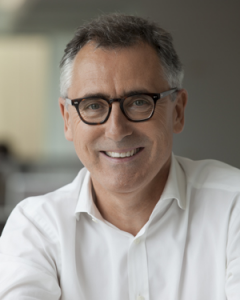 This post was written by Warren Riddell of beaton. Warren's details can be found on LinkedIn. Warren's first appeared on the Beaton Capital blog.
During his corporate advisory career spanning 30 years, Warren has worked in private investment companies and professional services firms around the globe. Leadership and the opening of new markets typify his work. He has served as director of a private media investment company based in London and New York, joint managing director of an international engineering company, partner in Ernst & Young's Corporate Finance practice in the Middle East and Europe, and partner-in-charge of Arthur Andersen's Asia-Pacific Privatisation & Infrastructure Finance practice. Warren has led the turnaround of a private equity fund, raising over $100 million in funds under management, and under his own company's Australian Financial Services Licence he has led successful private equity investments and M&A transactions. Warren is a Fellow of the Institute of Chartered Accountants (England and Wales) and holds a BA(Hons) from Lancaster University in Economics, Finance and Law, and two Master degrees from the University of Sydney in European Studies and Political Economy. He also teaches on the Master of Management (CEMS) program at the University of Sydney Business School.