Why 82% of clients choose more expensive firms
'Why 82% of clients choose more expensive firms' written by Paul Hugh-Jones, my partner, explains a crucial piece of  empirical evidence about the buying behaviour of clients of larger law firms. Paul writes: "When beaton presents our beatonbenchmarks™ reports, the section about why clients appoint a more expensive law firm often gets the most attention, challenge and interest.
Of course, this doesn't mean that 82% of corporate clients always choose a more expensive law firm, but it does mean that they are open to selecting firms based on demonstrated value rather than price.
This is true across all the professions beaton measures. Our data for Australia shows the numbers are: 82% for larger law firms, 85% in consulting engineering, 71% in accounting and 83% in management consulting. And where we have data for New Zealand, it is similar. 
This fact raises two questions
What level of energy and effort is spent in your firm trying to offer a competitive price to win work?

What level of confidence do your practitioners have to position your value proposition and price at the premium end of the expected range, rather than the lower end?
If your answers and 1) High and 2) Low – you are in good company … please read on.
beaton's research into buyer behaviour shows clients will consider price options within a 'zone of tolerance. This zone has a maximum price which clients are willing to pay, and a minimum below which they won't go without risking quality. A firm's positioning within the client's zone of tolerance depends on the level of demonstrated value. A client will appoint a more expensive firm if that firm differentiates itself on their key areas of value.
The reasons for appointing a more expensive firm in the legal profession are shown in the chart below. Of the 82% of respondents who appointed a more expensive firm, the chart shows the percentage of respondents who mentioned each attribute that the more expensive firm demonstrated. For example, 20 percent of respondents who appointed a more expensive firm cited the firm's responsiveness as a reason for their appointment.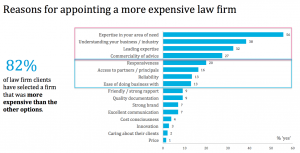 When we unpack these ranked attributes and interrogate the qualitative verbatims in beatonbenchmarks™, we can interpret what clients really value and are willing to pay more for. The top four boxed in red are about knowledge and expertise, the next four boxed in blue are about service delivery.
The top-ranked attribute by a significant margin is the ability to demonstrate 'Expertise in your area of need', followed by 'Understanding your business and industry'. The third-ranked attribute is 'Leading expertise' and the fourth is 'Commerciality of advice'. This means that clients are willing to pay more for practitioners they recognise as being leading experts. There is no surprise here, and many firms invest millions of dollars on poaching experts from rival firms.
The valuable insight is that you don't have to be the leading expert to command a premium price. You can charge premium prices if you demonstrate 'Expertise in the client's area of need', based on 'Understanding their business and industry'. Investing time and effort in developing demonstrable industry expertise across the firm will have a much greater ROI than a lateral hire program.
Reliability and responsiveness and ranked 4th and 6th, respectively. This means that clients are evaluating what each firm and practitioner would be like to work with, based on their experience during the winning work phase. How much effort did they demonstrate? How reliable and responsive were they? How proactive were they?
Needless to say, the process of demonstrating superior value and service starts way before the official tender process.
In summary, if you want to compete on value and justify premium pricing, you need to demonstrate that:
You truly understand the client's business, what they want to achieve, their strategic issues and consequently their specific needs

You have the specific experience and expertise in that particular area of work, based on having done similar work in the same industry

Your value proposition for the client will be a superior commercial outcome

You are reliable, responsive and keen to investing time and intellectual effort to demonstrate 1, 2 and 3 

proactively.
One final point. The last attribute on the chart is Price. Our research clearly shows that when a firm demonstrates high value and cost consciousness then premium pricing actually has a positive impact on choice. That is, expensive, high-performing firms who are demonstrably responsible with clients' money are perceived to be expensive, but worth it."
Further reading
How industry strategies drive profitable growth
Focusing your prospecting and pitching on what matters to clients
Three things that create value for clients
Author
Paul Hugh-Jones is a partner of Beaton Research + Consulting and a director of APSMA (Asia Pacific Professional Services Marketing Association). You can also connect with Paul on LinkedIn and contact him at paul.hugh-jones@beatonglobal.com or on +61 408 400 885.