A strange finding on the use of NewLaw providers by BigLaw firms
A strange finding on the use of NewLaw providers by BigLaw firms focuses a seeming omission in the 2016 Alternative Legal Service (ALS) Study by the Thomson Reuters Legal Executive Institute, Georgetown University's Law Center for the Study of the Legal Profession and Oxford's Saïd Business School.
The Study surveyed corporate law departments and traditional law firms on their use of Alternative Legal Service (ALS) providers. Law firms and law departments in the US, UK, and Australia were surveyed, but only the US findings were reported because of small numbers in the UK and Australia.
The report on the Study – published Thomson Reuters, owners inter alia of Pangea3, a provider of what they term managed legal services – there is no mention of ALS providers being – or becoming – direct competitors to traditional BigLaw business model law firms. The authors  focus on the use by law firms and law departments of ALS providers stating, for example, "The Alternative Legal Service Study reveals a seismic shift that has already happened with 51% of law firms and 60% of corporate legal departments currently using Alternative Legal Service Providers for at least one type of service." 
Of particular interest to me is the inclusion in the aims of the Study of  "whether law firms view the model as a threat or an opportunity" (cited in the Executive Summary).
In a February 2017 Forbes article on the top strategic issues for US BigLaw firm leaders, authors David Parnell and Patrick Mckenna reference the Study and note "one particular issue … received minimal attention in spite of the very recent report "The 2017 Alternative Legal Service Study". Under the sub-heading Surprising Unmentioned-ables, David and Patrick refer to alternative legal service providers 'taking work away from traditional firms', i.e. posing a threat.
A strange finding on the use of NewLaw providers
The findings are 'strange' in that ALS (or as we call them NewLaw) providers of many, but not all kinds, are well positioned to disintermediate BigLaw firms. By 'disintermediate' I mean by-pass traditional law firms and supply end-clients directly, i.e. be a threat. This is business strategy 101, yet it is not reported.
Australian evidence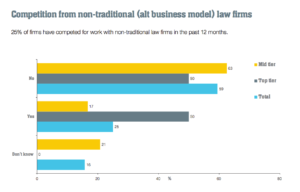 Our surveys of Australian law firm leaders clearly demonstrate that BigLaw leaders do perceive NewLaw providers as a threat. These surveys are sponsored by the Commonwealth Bank and independently researched by Beaton Research + Consulting.
This 2014 chart shows 25% of some 40 BigLaw leaders reported competing with NewLaw providers, with the combined frequencies of 'somewhat' and 'rare' ranging from ~50% to ~75%.
By the 2017 survey both the very large and the mid-size firms reported they saw a growing, but modest, threat from NewLaw in two years time (page 12).    
Comparative evidence
Our 2016 Delphi-type forecast of shares of the product ($ spent annually) of the legal services supply chain. We compared the US, Canada, UK, Australia and Western Europe. In summary, and corroborating the conclusions above,  the majority of traditional BigLaw business model firms will fail to remake themselves by 2025 and lose share to NewLaw, amongst other types of provider. Further, we found 'remade' BigLaw firms gain share at the expense of traditional BigLaw firms earliest and fastest in the UK and Australia, with the US lagging well behind. We also found client law departments gain the largest share by 2025 in the US.
Conclusion
I welcome readers' observations and experience on the work-in-progress interplay between BigLaw and NewLaw. Business strategy 101, to which I refer above, would suggest the game is headed towards classic co-opetition. That is, the two types of providers will both compete with each other and collaborate with NewLaw supplying BigLaw and also working together to supply clients.        
George Beaton