Legally Innovative is refreshingly different
Legally Innovative by Anna Lozynski is a refreshingly different and practical exhortation to 'get with' innovation for lawyers of all stripes everywhere.
The Foreword by Scott A. Westfahl of Harvard Law School appropriately invokes Martin Luther's 1521 exhortation to 'sin boldly', setting the scene for a scintillating read.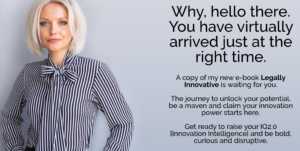 The nine chapters are grouped in three sections Be Bold, Be Curious, and Be Disruptive.
While Anna is an in-house lawyer, she has aimed her book widely at private practitioners, those working in-house and law students.
And I dare say law academics and the growing cadre of functional specialists in innovation, legal technology, digital marketing, knowledge management, pricing and more will find lots to learn in Legally Innovative.
Anna is recognised for her talent and drive as she leads the legal function of the L'Oreal Group in Australia and New Zealand into new territory.