Deloitte shows its legal services hand
Those who watch the Big Four and BigLaw and place bets on possible future scenarios will be interested in the news that Deloitte is to become the final member of the Big Four to use an ABS structure in the UK to further its (domestic and global) ambitions.
Neil Rose, founder and editor of Legal Futures, wrote yesterday "Deloitte has previously said it would not (emphasis added) go down this road due to the number of legal clients it has, but a spokeswoman explained that this position had been kept constantly under review." Read: We've changed our mind; Deloitte is showing its legal services hand.
In summary, Deloitte will offer [1] managed services, such as automated document review and contract management, and [2] consulting services.
Neither is a surprise, managed legal services is already a playground for PwC, as is consulting to corporate law departments.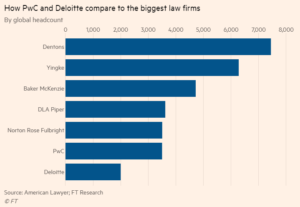 Just under a year ago I wrote @PwC makes a game-changing move in legal services reporting that PwC was contracted to manage much of GE's global tax requirements, and in an instant absorb a large proportion of GE's tax practitioners. 
This informative graphic, courtesy of the Financial Times summarises the current battleground and, in my opinion, foreshadows the inevitable entry of EY and KPMG into both managed and consulting services.
Last year I concluded 'serious disruption of the BigLaw business model establishment was occurring, noting that PwC and the other Big Four have their eyes on the complex tax work done by premium large law firms too.'
This type of disruption begins at the bottom of the food chain and moves up – relentlessly. The evidence is now even clearer.
With acknowledgment to the excellent Legal Futures feed for alerting me to the news of Deloitte shows its legal services hand.
George Beaton