Harbinger of the change affecting #BigLaw, courtesy of @ArtificialLawya
Harbinger of the change affecting #BigLaw, courtesy of @ArtificialLawya breaks with the pattern of Dialogue: [1] I am publishing Richard Troman's article as a news item [2] hours prior to the release of Ken Grady's post on transformational change. This juxtaposition is a metaphor for what all BigLaw business model firms need to come to grips with, very quickly. Thank you Richard – and Ken.     
This is the full text of Richard's coverage published earlier today as 'Final 14 Teams Go To Global Legal Hackathon Last Round in NY'.
The 14 finalists in the Global Legal Hackathon have been announced following a second round that saw 37 projects judged by a panel of experts. The winners will now go to New York where the final winner will be decided on April 21st.
The list of winners is below and includes teams from all across the world, from Nigeria to Canada to China.
Winners included the likes of Decoding Law from Hong Kong, China, and Apresente-se, from Brazil.
David Fisher, CEO, Integra Ledger and Co-founder of Global Legal Hackathon, said: 'The Global Legal Hackathon was created to foster legal innovation across the globe and be inclusive of all stakeholders. Inviting the additional set of teams supports this agenda, engaging a truly global audience for legal technology innovation.'
Aileen Schultz, Director of Network Intelligence, Integra Ledger and Co-founder, Global Organizer, Global Legal Hackathon, added: 'The judges had an incredibly difficult time deciding who their chosen top teams were. This speaks volumes as to the quality and energy of the GLH teams. With 14 teams now entering the finals, the spirit of truly global legal innovation will be on stage in New York City on April 21st.'
The judging panel for the semi-final round had the following representatives from each continent: Reena  Sengupta (Europe), Graeme Grovum (Australia/Oceania), Paulo Roberto (South America), Peter Becke (Canada), Wilbert Kapinga (Africa), and Minghui Xiong (Asia).
The GLH added in a statement that the '14 teams are representative of all 6 continents that participated in GLH2018, with a balance of public benefit and private benefit solutions, as well as the incorporation  of the Hadfield Challenges'.
—
The List of Winners
Australia – Melbourne
ANIKA is a solution designed to improve access to justice and provide practical legal training to law students. ANIKA will connect clients seeking legal advice with law students, who will work with ANIKA's artificial intelligence and human supervising lawyers to provide free, high-quality legal advice.
Brazil – Florianópolis
"Apresente–se" is a legal platform accessed by the courts and police that allows people to be identified, located and registered remotely from common mobile devices
Canada – Montréal, QC
Juridico is a solidarity cooperative that brings together a community of litigants, jurists, and workers for a common objective: making the judicial process easier. A web platform that offers customized help and orientation to the public, providing referrals to relevant legal resources.
Canada – Ottawa, ON
2Sign is an app for producing quick and easy legal contracts using verbal answers.
China – Hong Kong
Decoding Law is a machine learning powered browser plugin that helps people read and understand legislation. It (1) finds people the relevant section(s) of legislation by identifying keywords in their questions, (2) explains defined terms for easier navigation and (3) breaks down complex legislative drafting into simple language, which is particularly useful to unrepresented litigants.
Germany – Berlin
Sondier.ai is a consensus finding engine that facilitates a new and innovative way of conflict resolution.
Hungary – Budapest
Revealu makes it super-simple to request your GDPR data from providers such as Google, Facebook or anyone else.
Nigeria – Lagos
Project LemonAid aims to electronically facilitate access to criminal justice by decreasing the turnaround time for delivery of pro-bono legal services through collating, analyzing, and collaborating on existing case data.
Singapore – Singapore
Regall LT provides AI support to businesses and law firms to make wading through documents a breeze. It's early days yet but we are aiming to make wading through documentation easier and painless for lawyers and businesses so that you can focus on the work that truly matters. Our AI automatically scans, tags documents and maps inter document references to make your life a breeze.
USA – Cleveland, OH
INCO-herent's mission is to provide a clear understanding of how to choose and verify appropriate use of INCOterms when buying or selling across international borders to more accurately capture costs and risks. INCOtelligent smart contracts help your business navigate INCOterms for international purchasing contracts. By using a set of guided questions, INCOtelligent smart contracts help you select the right INCOterm for your business.
USA – Denver, CO
LexLucid is an online community for attorneys to review consumer contracts online, enabling consumers to make educated decisions about the products and services they use, and encouraging businesses to make their contracts fair.
USA – Los Angeles, CA
Clear My MJ is TurboTax for expungements. Our guided interview can be done on web, mobile or by SMS messaging, and issues the documents that need to be filed for an expungement; a crucial tool to solve our country's access to justice gap. Our mail API allows us to file and serve documents so our users don't have to take time off work, pay for transportation, or navigate another confusing part of the legal system.
USA – New York, NY
RightsNOW gives you trustworthy, consistent, and conversational access to legal information via voice.
USA – San Francisco, CA
Spicekit is a decentralized platform that enables collective legal action by deploying secure smart-contract bounties and streamlining collection of evidence. The platform allows users to support class action lawsuits and investigations. We're starting with fraudulent ICOs, but as we grow we'll take on cases ranging from unfair business practices to product safety.
—
[ Note: there are several US finalists because America produced a large number of teams at many nodes across multiple states. ]
Harbinger of the change affecting #BigLaw, courtesy of @ArtificialLawya is published with the approval of Richard Tromans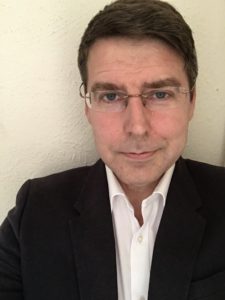 Richard Tromans is the founder of TromansConsulting [www.tromansconsulting.com], which advises legal businesses on strategy, innovation and the deployment of legal AI technologies. 
Richard is also the founder of Artificial Lawyer [www.Artificiallawyer.com], a global news site dedicated to legal AI and other new legal technologies.